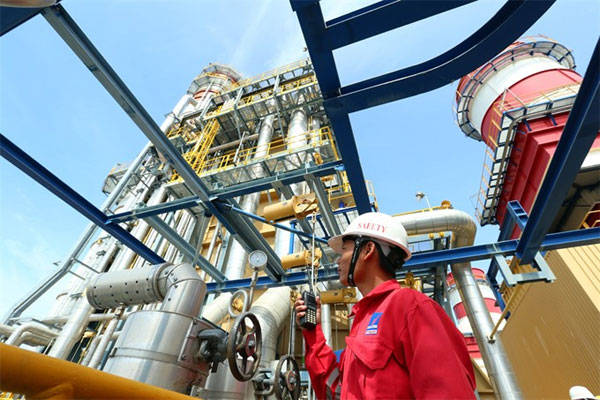 Workers at the thermopower plant Nhon Trach 2 in the southern province of Dong Nai. — VNA/VNS Photo
Demand for electricity in the second quarter this year is set to increase by 12.5 per cent at the peak of the dry season compared to last year, which usually records the highest power consumption of the year, according to the corporation that holds a near monopoly of the country's power sector.
Especially in May and June, consumption for the system is forecast to reach 650 million kilowatt-hour (kWh) a day, which means the infrastructure will need to handle a maximum load of 34,300 megawatts (MW) in these two months.
To meet the high demand, the EVN 'fully utilise' tap coal and gas sources to run coal turbines (in thermoelectric power plants Vinh Tan 2, Vinh Tan 4, Duyen Hai 1 and Duyen Hai 3), in addition to the reliance on reservoirs to ensure sufficient water to operate hydropower facilities in the lowlands
If necessary, the group will operate thermoelectric turbines that runs on oil to ensure supply.
Additionally, the group's affiliate, the National Power Transmission Company, was asked to ensure safe operation and continuous transmission of power grids, especially the 500kV north-south line.
All companies were requested to prepare plans for natural disaster prevention and rescue as well as measures to ensure safety for reservoirs and hydropower works to keep the lowland regions safe in the rainy and stormy season.
Local subsidiaries of EVN have also been asked to identify critical uses – such as hospitals, schools, clean water infrastructures, or important socio-political events – in their area to ensure that power supply is stable.
In terms of construction, the group will accelerate completion of projects in the second quarter this year to ensure power supply, including granting a Provisional Acceptance Certificate for Thermo-power plants of Vinh Tan 4 and Thai Binh and finishing a 500kV Vinh Tan-Song May transmission line.
In the second quarter this year, the corporation will try to launch the 500kV west Hanoi – Thuong Tin transmission line, a 500kV/220kV Nho Quan-Phu Ly-Thuong Tin line and 500kV transmission stations in Chon Thanh township in the southern province of Binh Phuoc and My Tho City of Tien Giang Province.
In the first quarter, the EVN's companies completed 41 electricity works nationwide and upgraded transmission stations in many northern and southern provinces.
According to statistics by the Ministry of Industry and Commerce, the total yield of power produced was 46.2 billion kWh for the first quarter, increasing 10.4 per cent compared to 9.4 per cent of the same period last year.
In March, power produced was 17.1 billion kWh, of which commercial electricity was 14.1 billion kWh.
Power saving
Aside from ensuring uninterrupted power, campaigns aiming to encourage the industrial sector and public to save energy will also be ramped up when the weather starts to turn dry and hot.
Enterprises, especially in the south where major industrial clusters are based, have upgraded their production lines to be more energy-efficient, or installed solar panels to alleviate the stress on the power grid.
Formerly State-owned MEKO Clothing JSC, which produces nearly 2 million clothing items a year and employs 2,000 workers in Can Tho Province, has recently upgraded the lighting systems in all of its workshops to LED bulbs which consume less power.
To Van An, deputy director of the company, said that since 2007, it has gradually phased out the use of traditional motors to new machines that are "three to four times more expensive, but really brought up our productivity and cut back our electricity consumption by 70 per cent."
Local branches of EVN in each provinces and cities have also been tasked with holding awareness programmes aiming at different groups like students, schools and households.
EVN's Southern Power Corporation (EVNSPC) also invested as partner to the implementation of ESCO (Energy Service Companies) model in nine companies across the southern region, which helped to cut consumption by nearly 1 million kWh by the end of February. The corporation expects to expand the model to many more companies in the region.
Source: VNS